With so many security options out there, it's very easy to become confused with the different types of locks. Aside from the standard cylinder and mortice locks, we have so many other door lock types such as garage door locks, keyless entry locks, euro cylinder locks, and even patio door locks.
Lock changing is very important in maintaining your security. It can be very beneficial to know the different kinds of locks, even if you're not a locksmith. This helps you have control over your home security. This means you can discuss options better with your local Belfast locksmith and be fully knowledgeable about the home security services you're receiving.
In this article, we discuss three of the most common door lock types in most Belfast residential and commercial properties:
Mortice Locks
Euro Cylinder Locks
Night Latches
Mortice Locks
This type of lock is one of the most common types found in residential homes in Belfast and the whole United Kingdom. They are frequently found in older homes, especially on wooden and aluminium doors.
Mortice locks also come in different levels of security called 'levers'. Ranging from 2 to 5 levers, a mortice lock is more secure with more levers. In fact, insurance companies often include it in policies to have 5-lever British Standard mortice locks within their property
Common mortice lock brands include Union/Chubb, Yale, Era, Asec, and Securefast.
Mortice Lock Types
Mainly, there are two types of mortice locks available in the market: the sash lock and the deadlock.
Mortice Sash Locks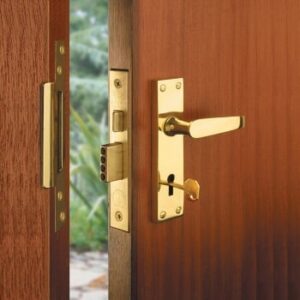 Mortice sash locks are commonly fitted on wooden doors in residential houses. They are opened using a mortice key and a handle. The handle is what distinguishes the sash lock from other types of mortice locks.
Sash locks are available from 2 levers to 7 levers. To meet British Standard 3621, at least 5 levers is required.
Mortice Deadlocks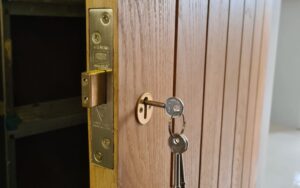 Mortice deadlocks are usually used for front doors in residential homes, specifically those made of wood.  The difference with sash locks is that they do not have handles. This means they are only opened by keys.
Euro Cylinder Locks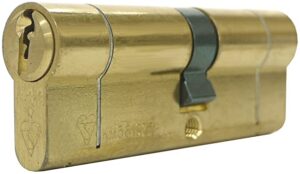 Euro cylinder locks are one of the most popular door locks used for both residential and commercial properties. It is a very versatile lock used for all kinds of doors, including but not limited to uPVC doors, apartment doors, multipoint door mechanisms, aluminium doors, and commercial shop doors.
One of the reasons why euro cylinder locks are versatile is because they are available in various sizes and security levels. They also have different hardware settings to fit all types of doors.
Popular brands include Era, Yale, Mul-T-Lock, Asec, Evva, Union, and ABS.
Why Euro Cylinder Locks?
Euro Cylinder locks can also be keyed alike for master key systems.
For emergencies, the inner side of some euro cylinder locks has a thumb turn for quick access. This makes it easy to open the door without a key for urgent purposes.
Euro Cylinder Lock Security Standards
Euro cylinder locks come in a wide array of types, sizes, and security levels. However, Emergency Belfast Locksmiths always recommends getting the most secure ones, particularly those that meet established security standards.
Some of the most popular ones include the SS 312 Diamond standard for cylinder locks and the TS 007 3 star standard. These standards certify that the locks can withstand some of the most rigorous attacks they can be subjected to.
In general, euro cylinders with these standards and the widely know BS 3621/8621 standards are sure to be the best ones in the market. Those with the British Standard also have the lock case and furniture/components tested for durability and security.
Night Latches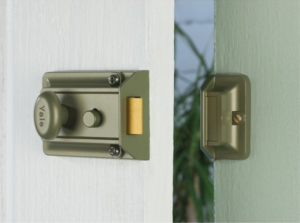 Commonly known as Yale type locks, night latches are usually used on front and back entrance doors. They come in various types and security levels, depending on the lock the mechanism uses.
To use night latches, the door is usually pulled shut to close and lock it. To open it from the outside, a key must be used.
On the inside, there's usually a small lever that you can twist to retract the latch that secures the door to the frame.
While these are convenient and come in an array of security types, we always recommend that night latches be accompanied by other locks. These night latches often aren't sufficiently secure by themselves.
Common night latch brands include Yale, Era, and Ingersoll.
Types of Night Latches
The most common lock in night latches are rim cylinder locks. While these are the most basic ones, your local Belfast locksmith can also upgrade locks in night latches to more secure locks.
Consider getting the following lock types for your night latch:
Deadlocking night latch
Auto deadlocking night latch
Double locking night latch
Traditional Night Latch
These types are more secure than the usual rim cylinder locks the night latches come along with. If you want to know more about these, you can view the Master Locksmith Association's comprehensive guide on the types of night latches.
With so many types of door locks and lock manufacturers, it can be troubling to choose which one is the best for your property. Still, knowing even these three types is tremendously useful as a base knowledge for your discussions with your local Belfast locksmith.
Emergency Locksmiths Belfast is always here to answer your questions and calls about security. Get in touch with us to get friendly professional advice on how to give your Belfast homes and businesses utmost security.