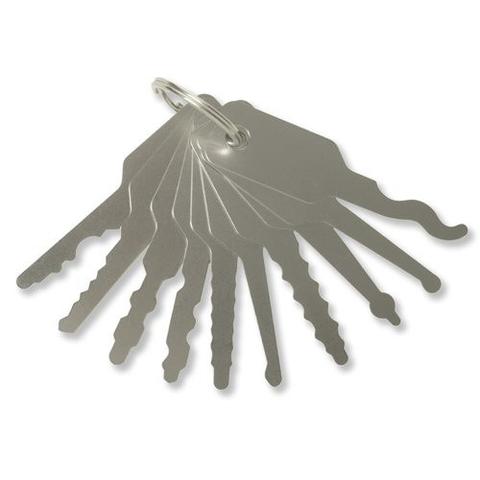 Compared with most lock picks, auto jigglers are crude and often imprecise tools. That said, they can bail you out in an emergency, even if you've never studied the art of lock picking. Whereas lock picking tools require patience, technique, and experience, auto jigglers bank more on luck than anything else.
Most auto jigglers come in sets of eight, 10, 12, or more and are collected on one central ring that helps you remember which jigglers you've tried. Each piece is crafted with a different set of ridges and tips that approximate those of ordinary keys. If one jiggler fails to spring a lock, the owner simply moves on to the next one. Some recovery workers and security personnel carry multiple rings of jigglers, so they may try 30, 40, or 50 different "keys" before finding a match.
No Auto Jigglers Are Perfect
Just as no single lock is unbeatable, no auto jigglers are guaranteed to open a vehicle. The game is one of odds, and so a given jiggler may work the very first time or it may never work at all. Many locksmiths only resort to jigglers after they've exhausted every other option and still don't want to break the glass.
You're more likely to find repo workers and maintenance professionals carrying auto jigglers than you are locksmiths, who take a more studied approach to defeating locks. Of course, you need not be in the recovery business to make good use of them; plenty of people keep a set of jigglers on their shelf in the event of a lockout, not just from their car, but from those of friends, guests, and co-workers as well.